Dla nikogo nie jest już tajemnicą, że słońce emituje szkodliwe dla oczu promieniowanie UVB. Tym go więcej im większa jest tzw. "dziura ozonowa", której powiększanie się ogromnym problemem ekologicznym współczesnej cywilizacji. Promieniowanie UVB jest szczególnie niebezpieczne w bardzo słoneczne dni (zarówno latem, jak i zimą) - wówczas do dociera go do ziemi najwięcej i wywiera największy wpływ na nasze oczy.
Dlatego musimy pamiętać również o naszych pupilach. Lato, słońce. Pies bez okularów słonecznych to jak pan bez psa!
Szczególnie podczas jazdy na rowerze lub motorze. Chronią przed słońcem, zdradzieckim promieniowaniem i muchami, które ciężko jest później łapką z oka wydłubać.
Uważajmy na podróby! Okulary przeciwsłoneczne kupione na ulicznym straganie to nie jest dobry pomysł. Mimo, ze często przypominają te markowe, w istocie daleko im do nich. Czasem mają one nawet poprzyklejane nalepki informujące o tym, że mają filtr promieniu UVB, ale to tylko chwyt reklamowy, który nie ma nic wspólnego z rzeczywistością.
Ciekawostka
W sklepie zoologicznym Karusek.com.pl znaleźliśmy okulary przeciwsłoneczne dla psa! Jak podano w opisie:
Nowość na polskim rynku!!!
Okulary przeciwsłaoneczne przydatne zarówno latem jak i zimą- chronią przed ostrym słońcem oraz refleksami świetlnymi. Zakładane na elastyczny pasek posiadający regulację .
Przeznaczone dla psów średnich i dużych .
A tak wygląda pies w takich okularach: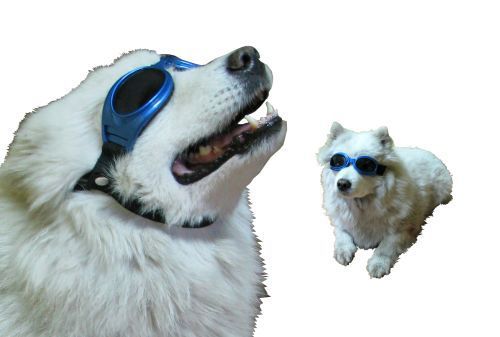 Nic, tylko ruszać na długi spacer!